Little Big One and Fandango Film AB have decided to enter into a strategic partnership to meet current and future demands from clients.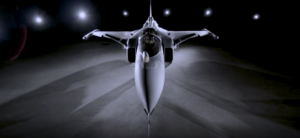 Little Big One and Fandango crossed roads some time ago when we produced a film together for Saab.
We realized then that there is and will continue to be a demand for small, flexible and efficient production teams that are used to working with all kinds of productions that the industry demands.
Our combined expertise, experience, advanced technique and equipment will lead to higher productivity and cost-efficiency, beneficial for both clients and our partnership.
The assignment may have looked simple on paper. We were to shoot a Gripen fighter jet for a new product launch. There were no aerial shots; we weren't shooting the next Top Gun. The plane itself sat in a hangar in Saab's compound in Linköping.
But when you're working for a high profile client like Saab, you do everything, no matter how simple it may seem on paper, with the best equipment and the best staff.
We set up a number of lights in the hangar to get the lighting just right. The extension cords for these lights weighed about fifty kilos alone. The crane we used is one of the largest in the business. It enabled us to get those nice, clean tracking shots from above and around the front. It took three people to just operate the big crane, with Hans Johansson directing the shoot.
To get the best shots, some of the best and most experienced people in the business collaborated on the shoot. Present on this shoot were, among others:
Ulf Ziegler, Little Big One, producer
Hans Johansson, Fandango film AB, director of photography
Lucas Göthberg . Red Dot production. assistant producer
Axel Franzino, camera operator
Everybody who participated on the shoot were struck by the awesome fighting machine Gripen E is.
The high value of the plane and the high security around it, meant that everybody who were present had to go through several security checkpoints, always accompanied by Jonas Tillgren or Per Borg who were supervising for Saab.
The whole production turned out great!