The perfect way to market a new car
Producing a video has turned out to be an effective way to market a new product, whether it is car or something else. But if you want the perfect way to market a car keep reading!
As many of you know, our expertise lies in media production (film & stills) and 3D (CGI). Many customers love the fact that we are equally good at both. We see ourselves as experts in both fields.
Since the arrival of Covid 19 in the beginning of march 2020, most of our social interactions have been moved online. This is the main reason why we came up with Little Big Studio, our virtual and interactive studio set which has become a big part of our product offering.
Our idea is obviously to keep doing what we are good at, meaning media production (film & stills) and 3D (CGI). Little Big Studio is our product available for clients to showcase what has been produced.
In order to show you in full what we are capable of doing we are currently working on a completely new concept.
In a week or two we will show you what we believe is the perfect way to market a new car, combining our refined skills in film, stills, 3D and Little Big Studio.
We will used shot material of the beauty shown below which will also be used as a basis of our 3D modelling.
Furthermore, we have used our Mercedes Benz van to film it all. Can you guess where the cameras are?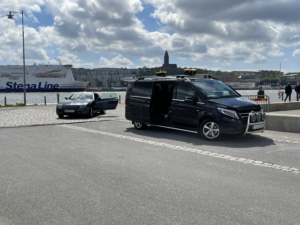 If you have seen our Little Big Studio you probably already have figured out that we will show a film, but there is another dimension to it…
We are super excited to share this with you and are looking forward to hear your thoughts!